Maveorn was an Imperial Seeker of
Thane
stationed in
Anvar
during the reign of
Corvan IV
. He was remembered best for his fighting talent, his fanaticism and his brutal methods of instilling fear.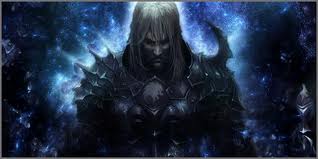 History and Personality
Edit
Born in Anvar to Thanish parents, it was said that the only way Maveorn attained such high rank was due to his family, as his was the old blood of Thane, his uncle being the Margrave. Truly, Maveorn's personality was not befitting of such a role, due to his violent temper and stubborn nature. However, it is unquestionable that Maveorn was an exceptional fighter for one so young, and during his time as Seeker he arrested and executed more disloyal to King Corvan IV (and, indirectly, his allies in Thane) than any of Corvan's own guardsmen. Maveorn was also something of a showman, and enjoyed extravagant show trials and executions below his hidden tower in Dunwood. His men had a great deal of loyalty to him, having seen his skill as a combatant and his displeasure at treachery. Maveorn had an innate dislike of magic, and, indeed, all non-humans.
Skills and Powers
Edit
Maveorn wore a long black leather coat nearly all the time, even in combat, claiming it offered more flexibility than plate or scaled armour. He was an effective knife-thrower and marksman, but his true talent lay in his use of his greatsword. His great strength and warrior's instinct made him a titan of battle, and he would even be seen wading into the thick of any fight, hacking his enemies to pieces.
In the Campaign
Edit
Maveorn's name was first mentioned by the ranger Branden, who informed the party that Maveorn had taken their elderly companion captive, believing him to be a Sharhaven Conspirator. Viserys and Iskander quickly departed for the tower to find Maveorn conducting a series of executions (a thief, a deserter, and the old man) which Viserys interrupted by use of magic. The party stormed the confused enemies, and many were slain. Maveorn managed to incapacitate Viserys, Dragomir and Branden before he was decapitated by the dwarf Iskander. Upon Maveorn's death, his soldiers fled, and the old man was freed.