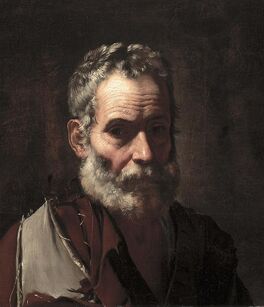 This old man went on a number of adventures with the party before dying of old age. He will presumably be missed.
The old man was born and raised in Carrow, where he worked as a miner until the mines went dry. He married young, and by the time he was sixty his wife was dying of the plague. After she passed on he began to visit her grave every night, to tell her that he still loved her and that he would always need her.
In the Campaign
Edit
It was during one of these visits that Iskander and Viserys decided that the old man would make a worthy addition to the party and they took him with him on Bardas' caravan, much to the merchant's discontent. Despite being wounded in the attack, he remained genial, even loyal, and because of this was beaten by Bardas after challenging him. He was taken to Mirkwind to rest and heal but was kidnapped by Maveorn's men and nearly executed; however, he was rescued in the nick of time by Iskander, Viserys and Dragomir. He accompanied the party on a number of ventures across Anvar, even taking up residence in the palace after Corvan IV's death. During the Margrave's failed attack on Greyhold, the old man rallied the peasantry of the city to fight against the invaders. Years later, his health began to decline and he died peacefully at the age of eighty two.