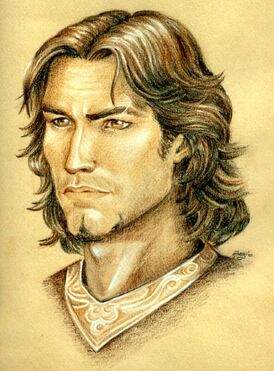 King Sargon II ("The Peacemaker") was the ruler of Anvar for five years after his father was dethroned. He is remembered as a just and valourous king, reminiscient of his ancestor, Corvan II.
History and Personality
Edit
Sargon's father, Corvan IV, was not much of a parent, preferring to let his stewards and courtiers teach the boy right from wrong. Sargon had an in-built attitude of decency, putting the needs of others before his own, even from a young age. He was a talented jouster, but not a great fighter; his true skills lay in negotiation and strength of will. In manner Sargon was extremely honourable, if stern, and showed an empathy for those in need. His court, which included  Lord Dareth, Lord Silas, and Lady Asira , all spoke very highly of him. His court wizard, Cathbad, went so far as to say that it was as though Corvan II had been born again.
In the Campaign
Edit
When Viserys, Iskander and Hanu explained that they had captured Corvan, Sargon agreed it probably couldn't have been avoided, and with the party's help he led the defense of Greyhold against the Thanish forces of the Margrave. Upon assuming the throne, Sargon asked for the party's aid first in removing Shavram from Greyhold. He later needed help in clearing out Dustboot Mine of Taar and the soldiers from Easthaven, and later in solving the murders in Darthing Ford. He even came to rely on the party at times.
His father, Corvan, attempted a coup at a later date, in which Sargon was captured, but freed by the party. He was also present during the riots in Narrowhaven, alongside his bodyguard Akkadius, where Viserys flew him to safety. Notably, Sargon led the armies of Anvar against the Horde in Scarfell, where he was killed whilst battling a Slayer.
Sargon was succeeded by his cousin, Corvan V.